Welcome to Romine's Rabbit Ranch
Located in Harrisburg Oregon.My name is Tricia, and
I have been raising and showing
rabbits for 19 years. I am an
active member of ARBA,EERBA,OLORCB,
and other clubs associated with the
breeds i raise. I started out in 4h
and attained the title of state
champion several times. I then went
on to be a 4h leader for several
years thereafter. I also host a forum
called The Rabbit Habit. There are
several links on my web site that take
you there. Feel free to e-mail me with
any rabbit questions you may have. Also
be sure to sign my guest book before you
leave!

Rabbit Breeds Raised
Mini Rex: Specializing in Reds also Broken,Castor, Tri's

Dutch:Black,Blue,Specializing in Torts

Holland Lop:Tort,Sable,Orange,
broken,blue,black,Opal,pointed,
chestnut,also Otters rare not excepted colors etc....To many to list

New Kit Arrivals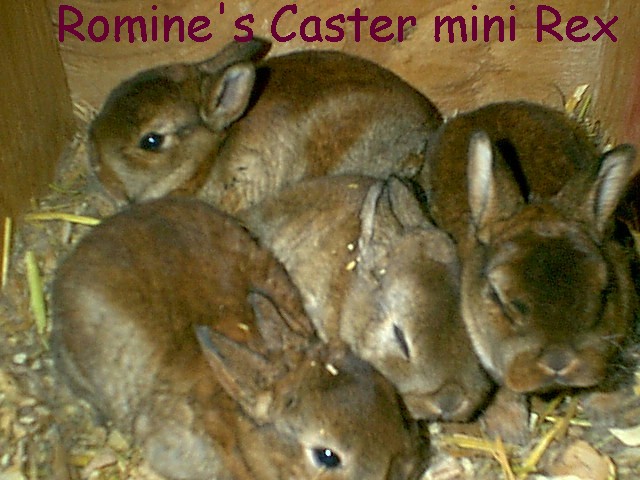 Litters For The Month Of Oct

Hollands: Flash new litter!tort n broken torts.
Dutch: Flash new litter of blue's/blacks

Mini Rex: Flash new litter of Reds and one litter
of Black/Orange tri's two Harli's